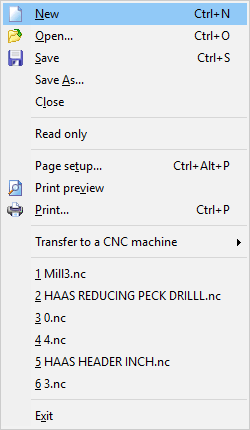 Fig.1. The file menu
New
Hotkey: Ctrl+N
This is used to create a new file. Once the file is created, it is automatically named "NoName1.ncp". As each new document is opened, the number in the title will increase: "NoName2.ncp", "NoName3.ncp", etc. Since CNC Syntax Editor is a multi-document editor, open documents will not be closed when a new one is opened.
Open
Hotkey: Ctrl+O
This will open an existing file. You will be asked for the file location. The file may take a short while to load. The default folder is the folder where CNC Syntax Editor had been installed.
Save
Hotkey: Ctrl+S
This saves the currently opened file in its current location. If the file is a new file, a dialog box appears allowing the user to choose a drive, folder and filename. This menu command only appears when there is one or more files opened.
Save as
This will save the currently opened file to a new location which you specify. This command only appears when there is a text file or files open.
Close
This will close the currently opened file. If file had been modified, then CNC Syntax Editor will ask you about saving.
Print
Hotkey: Ctrl+P
Choose a printer if more than one is available, and set its options. If you'll click a button on the toolbar, then CNC Syntax Editor prints the active document to the default printer without dialog
Page Setup
Allows the user to set options for printing the file. Paper size and orientation are set with the Print setup (fig.2).
Fig.2. The page setup
•Units - measure units of margins;
•Margins frame - sets the white space between the text and the page edges;
•Mirror margins - Set if margins should be mirrored (i.e. when printing 2-sided);
•Line numbers - Print line numbers;
•Print line numbers in margin - If this options is enabled then line numbers are printed in the left margin, otherwise left margin is increased by width of line number text;
•Syntax print - Highlight text;
•Use colors - Print in colors. Colours printed will depend upon the setup of your computer and printer;
•Wrap lines - Wrap text to margins.
CNC Syntax Editor uses the DNC Precision software by AGG Software for uploading files to a CNC machine. Please, refer DNC Precision manul for machines configuration.
Recent File List
This part of the File Menu, between Print Setup and Exit, is a list of recently opened documents. Clicking on one of these file names will open that document for editing
Exit
Closes CNC Syntax Editor and all open files. The user is given the opportunity to save any modified documents.